Sherman is a Superior North Texas Location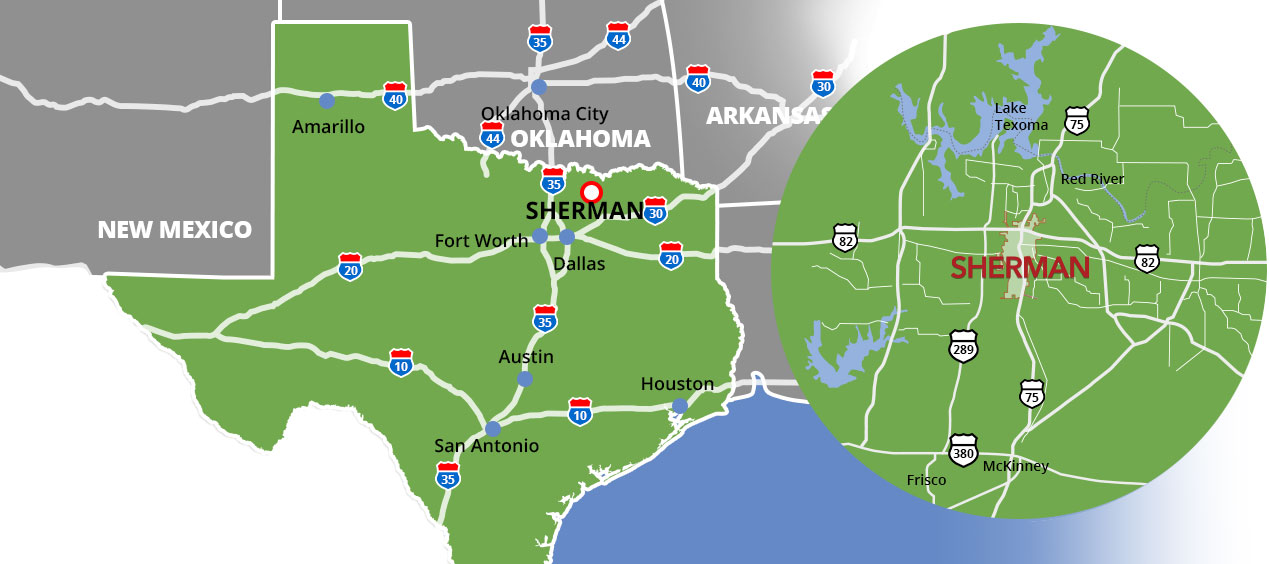 Sherman is located 40 miles north of the Dallas-Fort Worth Metroplex, one of the fastest growing metros in the entire United States. Sherman is the largest city within the tri-county area and the primary city for business, retail, government, and professional services for the Sherman-Denison metropolitan area (population of 138,000). Our centrality to Dallas and Oklahoma allows us to capture the growth of North Texas with our shovel-ready properties for development, customized incentive packages, and superb economic development team.
Sherman by Road
Sherman provides easy access for distribution, commuting, and travel via north-south U.S. Highway 75  and east-west U.S. Highway 82.
Sherman by Rail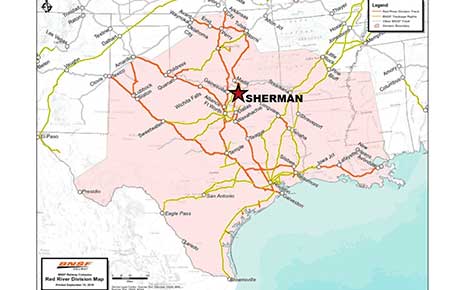 BNSF rail service with direct spurs provides access to nationwide markets as well as Texas ports for global distribution options. BNSF currently serves Progress Park two days a week.
Sherman by Air
Sherman is one hour north of the Dallas-Fort Worth International Airport, one of the busiest airports in the nation with direct flights to cities throughout the United States and the world. Businesses located in Sherman enjoy lower costs of doing business while proximity to the DFW Airport makes employee travel and product shipping convenient and easy. Passenger flight options are also available at the Dallas Love Field Airport.
The North Texas Regional Airport (NTRA) borders State Hwy 289 and is capable of handling large aircraft. The airport has over 325 shovel-ready acres of land waiting for development by aviation-related, industrial, or cargo operations. With a recently completed $17 million in capital improvements, the proactive economic development organizations of surrounding communities ensure a business-friendly environment.